So I just put the baby down to bed and I was reading through some of my favorite blogs and I discovered a neat little linkup on my friend Lydia's page.  I thought it was a nice  way to kill some quiet time, so here's my go at it!!!  Essentially, you just have to fill out the sentence with whatever comes to mind.  Pretty basic stuff here.  We've all tried these before.  
You can join the linkup with Jake & Holly by clicking on the photo below.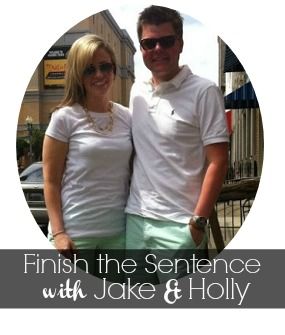 My happy place is…. with friends and family and a bottle of wine – like where I'll be next weekend after Ragnar, sipping on some grape juice with friends and loved ones.  
Whatever happened to… (I was going to say predictability – from the Full House opening song – but it was already mentioned.)  So I am going to say MUSIC!   Music today sucks!!!    Pop, Techno and Rap music is rotting our children's brains.  It's sad when Country folks are showing everybody up. Bring back some real rock and roll!!!
So what if I… let my kid scream and throw a fit in public.  She's not getting everything she wants, even if Nana disagrees with me.  
E! needs a reality show about…  A fine dining restaurant and the staff.  There is some cray cray things that happen inside those dark and elegant styled walls.  People would be very entertained to know what I've seen and heard.
My go-to fast food meal is…. Pollo Tropical.  Gimme a TropiChop with brown rice and black beans with a side of fried yuca.  I'm not latina but I eat like one.  
You might not know that I… went through a piercing phase in my twenties.  Let's just say I've had more pierced than my ears.  Thankfully, i've outgrown all those holes.

The hottest quarterback in the NFL is… I hate to say this but my personal preference is Tony Romo.  Maybe it's because his name reminds me of a pizzeria, and I love pizza.  
If I could… shoot out the tires of high speed vehicles that recklessly fly through traffic and weave in and out of lanes carelessly, I would totally do so.  That would teach them a lesson.  
My personality is awesome because… I can finish most conversations by quoting a movie.  Some might find it annoying – especially if they're not movie savvy – but I think it's totally rad!!  Ta-ta-totally.  
Twerking is…. disgusting and vulgar but thoroughly entertaining  to watch in a comical light.  The Jimmy Kimmel prank was hilarious.     If you haven't watched it, def check it out on YouTube.
I think it's super gross when… professional tennis players, like Rafeal Nadal, repeatedly pick their wedgies on worldwide televised programming.  
Someone needs to tell Miley Cyrus…. her hair is U-G-L-Y.  Those two baby buns/knots on her head look like fluffy devil horns.  How the heck is Liam supposed to enjoy running his hands through that lack of locks.  Better get you some extensions gurl.  
Now I feel like I've just ranted about absurd topics.   I went off on a tangent about pop culture and it's lack of originality and morality, but at least now you have a better understanding for my preferences.  Hope everyone has a wonderful night and an even better day tomorrow.  
Ciao Mr. Romo